Looking for a Halloween Science activity this Halloween season? Halloween Science experiments for kids are a great way for young scientists to develop critical thinking skills.
This is the perfect time of year to try a few of our favorite Halloween Science experiments. They are the perfect addition to a Halloween party.
These experiments are organized by age. Activities for younger children are at the top of the post. Scroll down toward the bottom of the post to see experiments for older children. Most of these experiments require supplies you already have on hand.
Easy Halloween Experiments for Younger Children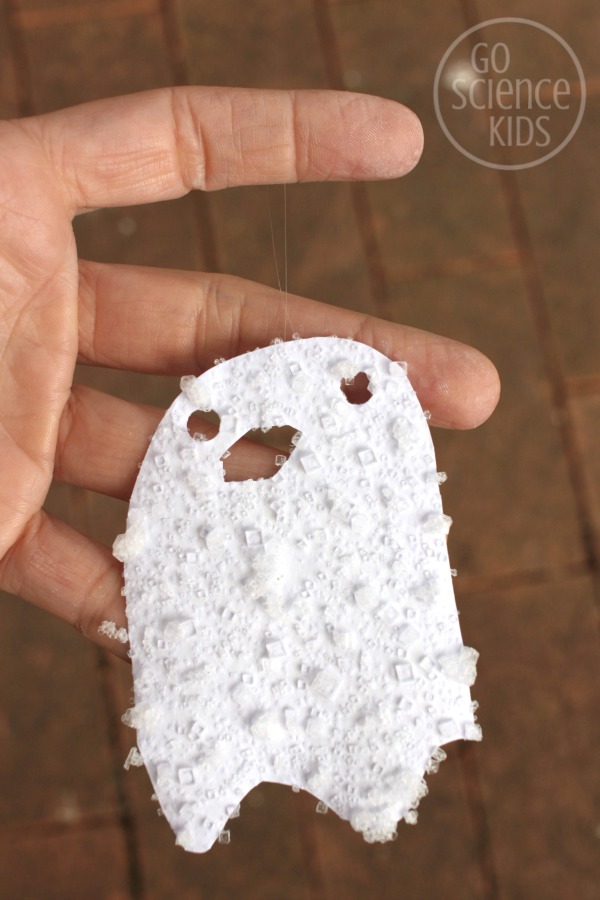 Kids will witness the salt dissolve in water and then reappear on their ghost. A great activity to introduce new vocabulary words and so much fun to try over and over again.
Decorate and experiment with physics. Which top will spin the longest? Which top will travel the farthest while spinning?
This Halloween activity is a fun way to develop the pincer grasp and strengthen wrist rotation (both important for writing).
Spider Web Science Activity
from Buggy And Buddy
Learn about spiders and vibrations on their webs. How do they get their food? This fun experiment uses yarn. Add spooky spiders or cute spiders to the web to give it a spooky twist.
Colorful Witches Potion Science Experiments
from Finding Myself Young
Ready for Halloween fun for the whole family? Create witch's brews with baking soda and vinegar.
Add food coloring, different containers (small black cauldrons), and other Halloween themed objects to make each potion unique.
Mad Scientist Green Punch Recipe and Experiment
from Finding Zest
Experimenting in the kitchen to make a delicious punch is so much fun and you can taste test it afterwards. Observe a chemical reaction with ginger ale and sherbet. It's like you're making a mad scientist potion.
Pumpkin Investigation Activity
from Hess Un-Academy
A simple Halloween Science experiment using any pumpkin you already have. Make predictions first. Then, investigate to figure out the size and weight. Will it float or sink? How many lines does it have? How would you describe the texture? Are there more than 100 seeds inside?
Before Halloween and after, there is always lots of candy around. I can't resist when the grocery stores offer it on clearance. Candy experiments are a great way to use some of your Halloween candy. This activity introduces younger kids to the scientific method.
This type of experiment also gets kids thinking about other ways to experiment with the candy. Does it dissolve in water? How much does each piece weight?
Melting a frozen brain with warm water (or even try salt) in this classic experiment with a Halloween twist. Add a few drops of food coloring.
If you don't have a brain mold, you can use any large container to freeze water in. Using a pipette is great for strengthening fine motor skills.
Kids of all ages enjoy chemical reactions! Adding a pumpkin and observing the reaction is awesome!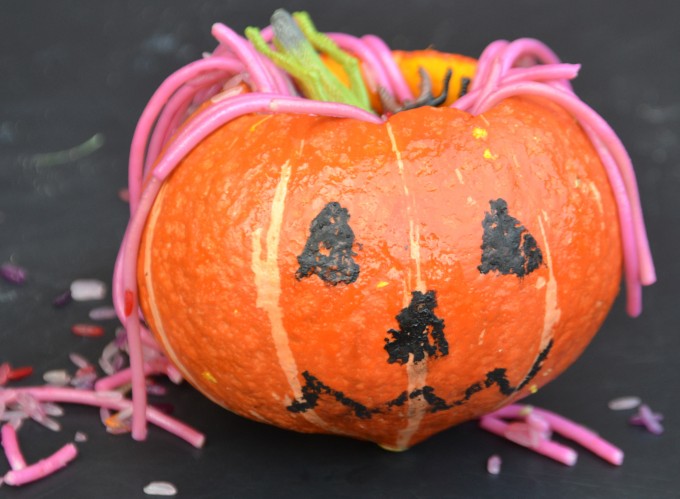 Guess What's In The Pumpkin
from Science Sparks
Pumpkin Science experiments are so much fun! Guess what's in the pumpkin without looking. What a cool sensory experiment sure to bring laughs! They tried rice and cooked spaghetti. You could also try water beads or pudding.
Perfect for sensory play! Keep it in an air tight container and use it day after day in October.
Eyeball Surprise Science Activity
from Merriment Design
Make a mixture of baking soda and water. Form a layer of baking soda paste around a plastic eyeball. Then, freeze it.
Once it is frozen, kids use vinegar to dissolve the baking soda and discover and fun surprise. Sensory activities are always a huge hit with young kids.
Fun Halloween Science Experiments for Older Kids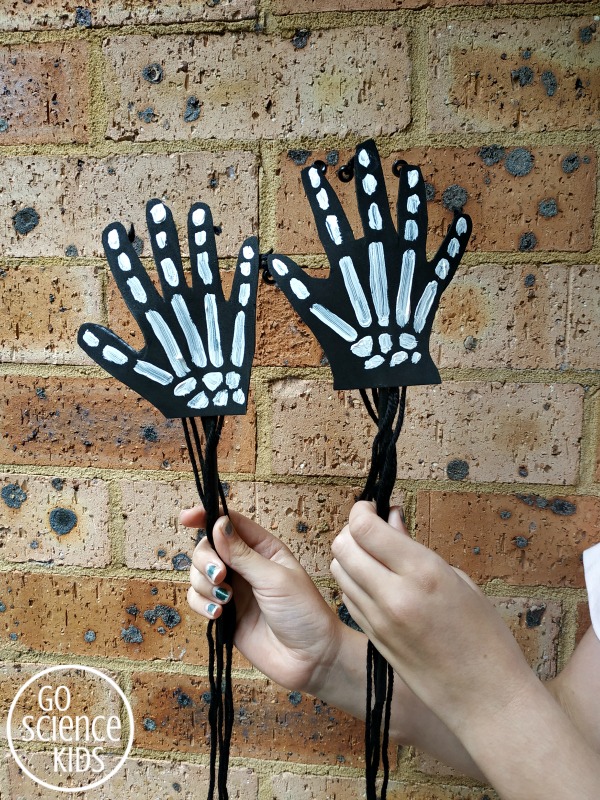 Articulated Skeleton Hand
from Go Science Kids
Experiment with how the hand and tendons work. This experiment is recommended for ages 7-9.
This site has tons of ideas for making Science fun!
This fun Science experiment introduces the parts of the blood to children with dark slime. It uses Xantham gum, red food coloring, mini erasers, styrofoam balls, a beaker, and water to make the fake blood.
The Possessed Bone (A STEAM Magic Trick!)
from Barley & Birch
Why won't the bone stay in its box? This magic trick is so fun. The bone is made from salt dough. Magnets are needed for this activity. Detailed instructions are included for supplies and getting ready for this STEM activity. Who will you perform this trick for?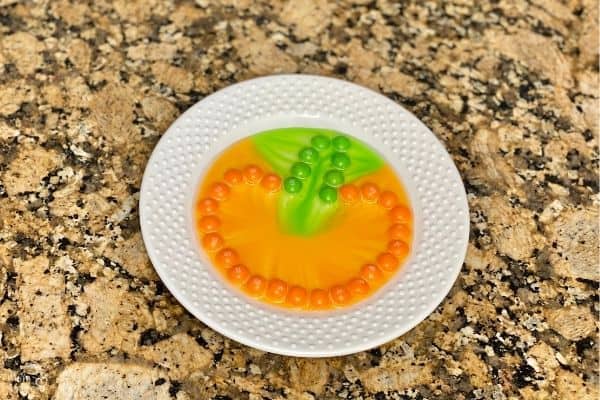 Pumpkin Skittles Experiment
from Mom Brite
Watch warm water dissolve the skittles and the colors spread. Form a simple pumpkin shape with the skittles and then add warm water. Also, find out why the orange and green don't mix.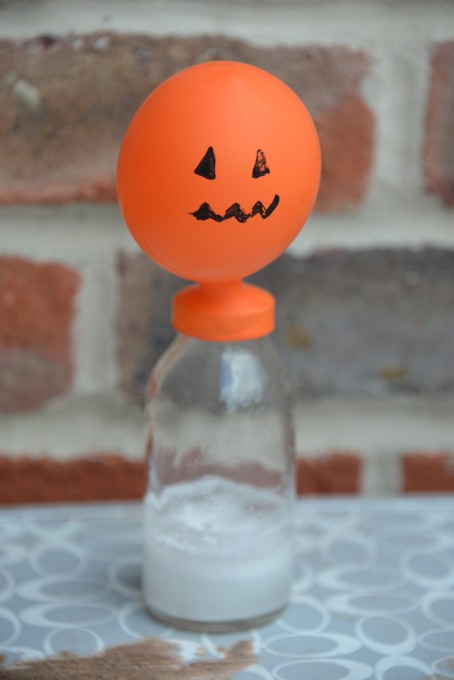 How To Blow Up A Pumpkin
from Science Sparks
This experiment only uses alka seltzer and water to make a funny or spooky expanding ghost. I love kids activities that use simple materials! You can also try a white balloon to make an expanding ghost or green balloon to see a monster grow.
Create Monster Eyes with vinegar and eggs in this interesting experiment. Talk about spooky Science experiments! These eyeballs will be able to bounce when you are done.
Edible Bacteria Candy
from Steamsational
Making different bacteria samples that are actually edible. What a fun leaning experience! The base of these spooky Science activities is jello.
Spooky Ghost Chromatography Experiment
from Steamsational
What colors are hiding in black marker? Use a coffee filter and rubbing alcohol to find out and make these little ghosts. Add a ghost face with marker. This fun activity is a perfect fit for elementary students.
More Awesome Halloween Science Activities
If those 20 Halloween experiments weren't enough, here's more!
Ghost Eggs from Growing a Jeweled Rose
Tea Bag Ghosts from Play Dough to Plato
Grow a Pumpkin in a Pumpkin from Life with Moore Learning
Dancing Ghosts and Bats from Inspiration Laboratories
More Candy Science from Left Brain Craft Brain
Smoking Bubbles from Steve Spangler Science
Catch a Ghost from Red Ted Art
Ghost Rockets from Growing a Jeweled Rose
Which Halloween Science experiment will you try first? All of these ideas are so much fun and there's so much learning embedded in each one.
From making predictions and testing them out to drawing conclusions and discussing results, your young scientist will having fun while learning.