Owls are just adorable! These easy owl crafts for preschoolers are a great addition to your decor this Fall season. With simple craft supplies, these Fall crafts are a great way to get creative together.
Fun Facts about Owls:
(source Audubon)
Owls eyeballs don't move (which is why they turn their heads instead), but actually have binocular like vision to find their prey.
A group of owls is called a parliament.
Owls sometimes hunt other owls.
The smallest owl is the Elf Owl (5-6 inches tall).
Great Grey Owls are the largest owl (32 inches tall).
Barn Owls swallow their prey whole and eat up to 1,000 mice per year.
Not all owls hoot. Some make hissing sounds, saw sharpening sounds, or whinny like a horse.
Owls have two forward facing toes and two backward facing toes.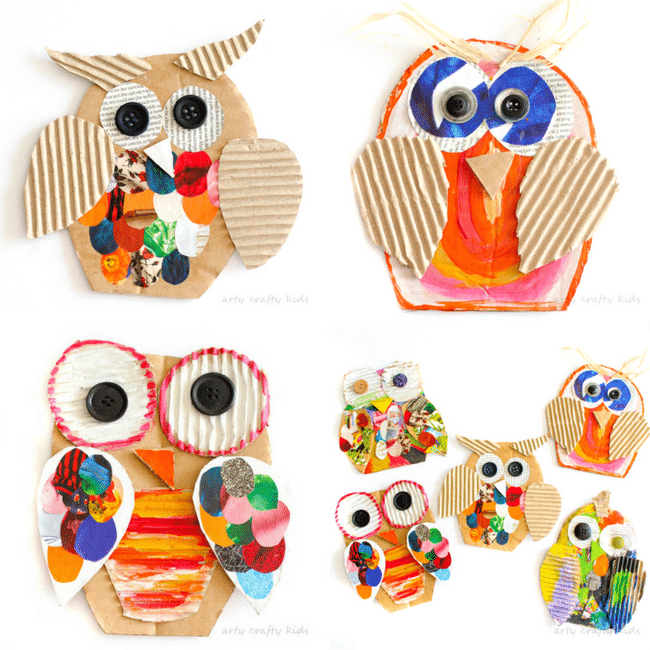 Recycled Cardboard Own Craft from Arty Crafty Kids
Don't these colorful owls make you so happy? What a fun way to use recycled materials! I love that this colorful owl craft is open ended and that all of the owls turn out differently. The different textures and colors of the materials make for an awesome crafting experience.
Cupcake Liner Owls from Artsy Craftsy Mom
Use cupcake liners to make these adorable owls. Fold, paint, add eyes and a nose . Make a tree or forest out of paper on a larger piece of paper and glue the owls onto it to create an owl habitat. Teachers, this would make a great bulletin board idea with every child contributing an owl.
Sponge Painted Owl Craft from Buggy and Buddy
Paint, paper, and a glue stick are all you need to make this fun craft. The texture and overlapping colors on the owl shape make each owl unique and special.
How to Make Bark Owls from Fireflies + Mudpies
I think this little owl is so adorable and I love that it's made with natural materials. Use white glue in this craft so a lot of glue can be applied and it dries clear. These would be awesome in a classroom building center too.
Cork Owls Craft from Happy Hooligans
This craft will need adult guidance, but it's just so adorable with the corks, felt pieces, and buttons. You can even make an owl family.
Paper Cup Owl Craft from Kids Craft Room
Children will strengthen fine motor skills as they wrap yarn around the cup. What a fun idea to make these cute owls! Offer different colors and textures of yarn, different colored cups, and a variety of buttons and feathers to make each owl different and special.
Paper Bag Owls from Non Toy Gifts
Reuse paper bags or use brown construction paper to make this owl. Notice how the wings are made from handprints and glued onto the brown paper bag. Stacking the different sized circles from largest to smallest is a great opportunity for preschoolers.
Craft Stick Owls from Our Kids Thing
Larger craft sticks are better for younger children. Use these owls as bookmarks or for pretend play. Use them with the action rhymes and poems (below).
Adorable Toilet Paper Roll Craft from Projects with Kids
Quick folds and different paper details and your toilet paper tube owl is ready for fun! Play with your owl or set it aside as a decoration. Make an owl family that is similar to your family.
Owl Babies Craft from I Heart Crafty Things
Isn't this baby owl totally adorable? This craft goes with the book, Owl Babies. The white paint on black construction paper makes for a sharp contrast and beautiful piece of art.
Celery Stamping Owl Craft from Crafty Morning
This paper owl is made from simple paper shapes and then each owl becomes unique when it's stamped with celery. Offer different colors of paint to stamp your owls with.
Make a pine cone owl from Red Ted Art
This pinecone craft doubles as owl ornaments. Add googly eyes for a special finishing touch.
Snowy Owl Craft from Fantastic Fun and Learning –
Use black construction paper and paint to make these snowy owls. I like the detail of the crumpled brown paper glued on as a branch for the owl to perch on.
CD Owl Craft from Preschool Crafts
Use an old cd, leaves, and large circles of construction paper for the eyes. The yarn wrapped around the cd is a cool detail and strengthens fine motor skills. Mixed media art projects are so intriguing and allow for creativity and self expression.
Stone Owls from Very Little Nothing
This craft simple materials (markers and paper). Kids of all ages will have so much fun making owl rocks and putting them in different places around the neighborhood to brighten people's days. Seal them with Mod Podge before putting them outside.
Paper plate owl craft from Frugal Fun for Boys and Girls
I love paper plate crafts. Use painted and folded paper plates to make these paper plate owls. Add a ribbon to the back so they can be hung up.
Handprint Owl Craft from The Parenting Patch
I love a simple handprint craft because it becomes a keepsake of your child's sweet hand. Use different colors of the paint for the details after the handprint is dry.
Owl Poems
5 Little Owls
5 little owls learning to say "who".
They flapped their wings and then said "shoe".
Mama Owl cried "No no not shoe!"
Please oh please say "Who Who Who"
A Wise Old Owl
There was a wise old owl
who lived up in a tree.
He sat upon a branch
so all the world he'd see.
He looked at a snake.
He looked at a bee.
He looked at a mouse.
But he winked at me.
Wise Old Owl
A wise old owl
lived in an oak.
The more he saw
the less he spoke.
The less he spoke
the more he heard.
Why can't we be like that wise old bird?
We hope you love these adorable owl crafts as much as we do! Have a great time creating!
Check out these Barn Owl Facts for Kids!