A magical fairy garden is a great way to spark a child's imagination and inspire pretend play for kids of all ages. You can buy fairy garden accessories and houses at the craft store, but you can also make these kids fairy garden crafts to add to your own fairy garden.
Fairy gardens are the perfect way to set up an invitation for imaginative play. A flower pot is a cool thing to use as the base, or find a small hole tucked away in the corner of the yard, or try fairy gardening at the base of a tree. Use natural materials such as sticks, rocks, small plants (live plants or artificial), and soil as accents in your fairy homes. Use fabric flowers to make a miniature flower bed.
Check out these fun ideas to get you started on creating for your fairy garden.
Plastic Cup Fairy Bridge from A Crafty Mix
Use craft sticks, a plastic cup, and hot glue to make a simple bridge for your fairy garden. What a great project to make together! Add as many or as few accessories to the bridge as you want to. The posts and railings can be left off and just a simple bridge can be made.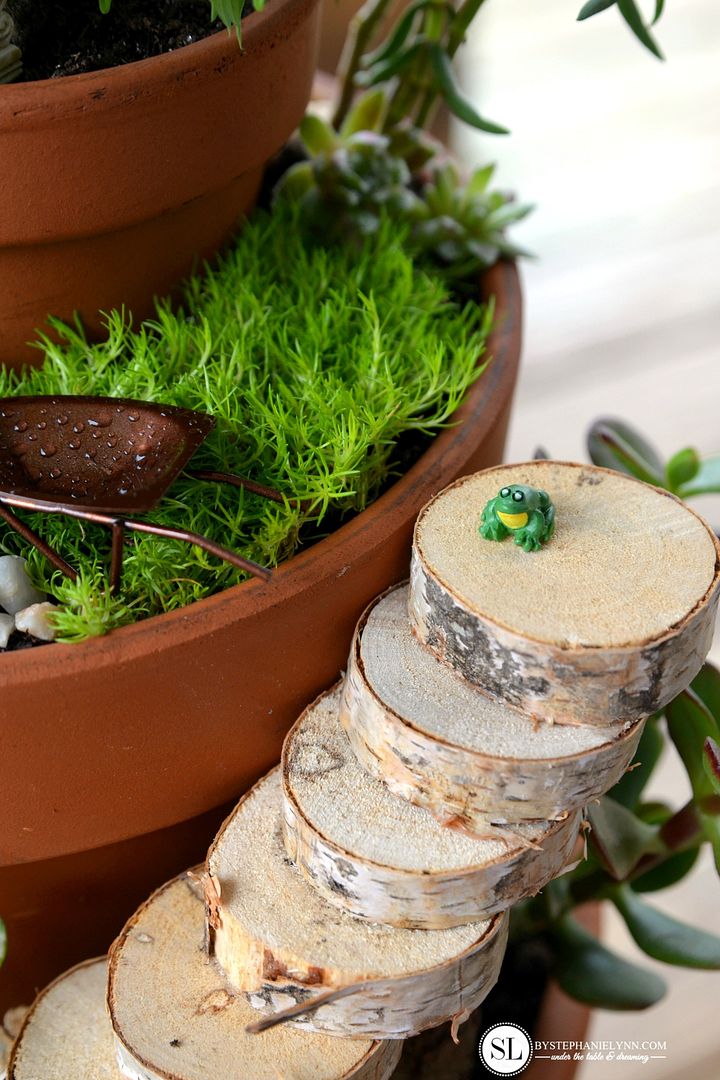 Wooden Steps from By Stephanie Lynn
You can buy birch slices of all sizes at the craft store. It is a good idea to keep them loose so they can be arranged differently each time or glue them together to make a stair case. A fun project that can be customized to fit your fairy garden.
I love that these birch slices come in so many sizes. Things you can make with the small 1″ slices:
Small Path
Stepping Stones
Hop Scotch (Seal your paint or marker with Mod Podge)
A Bridge
Stack to Make a Tower
Use them as plates
A Border Around Your Fairy Garden
A Stool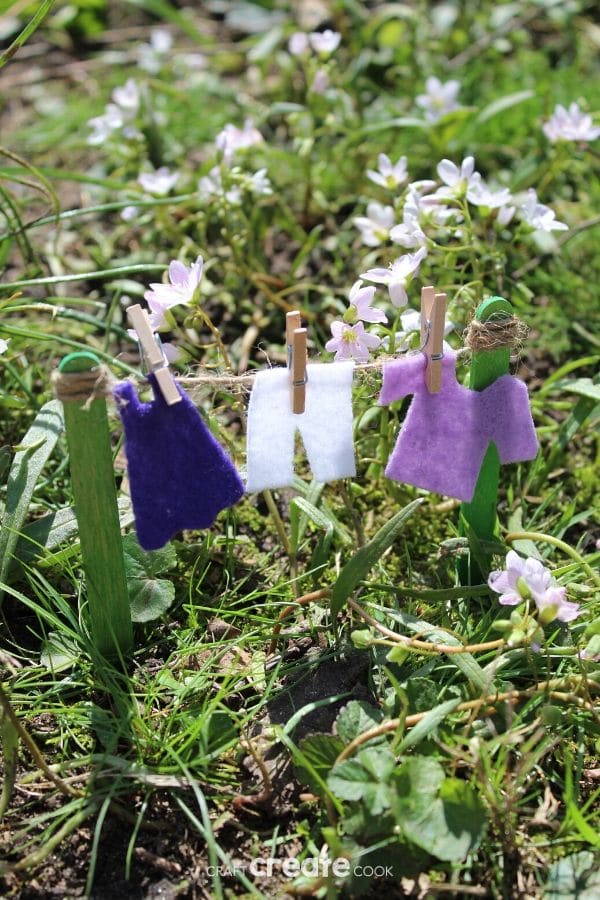 Miniature Fairy Garden Clothesline from Craft Create Cook
Two popsicle sticks with twine or string tied in between makes the most adorable clothes line for your fairies. Cut clothes from felt and use miniature clothes pins (craft store) to hang them. Using the miniature clothes pins is great for fine motor skills!
You could also take this idea and make a fence around your fairy garden or around a pond area.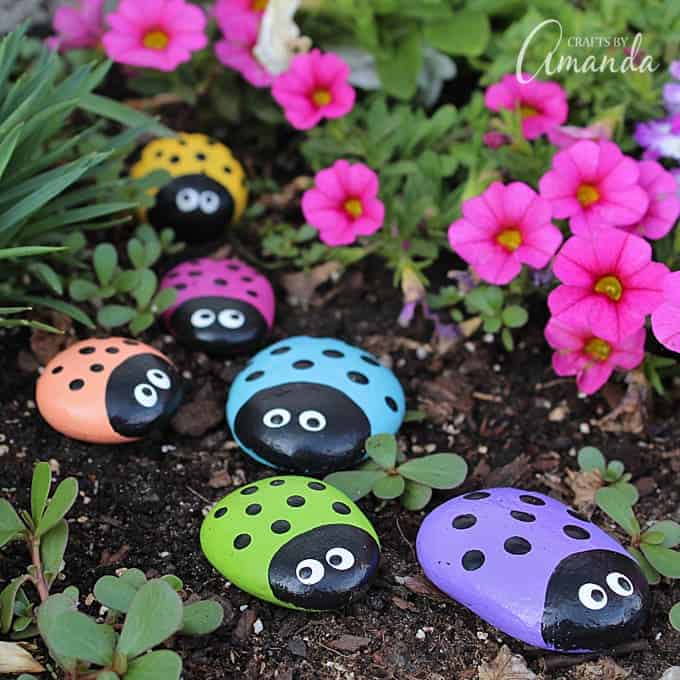 Ladybug Rocks from Crafts By Amanda
Use acrylic paint and rocks to make small ladybugs to live in your fairy garden. Such a cute craft project for kids of all ages! Rocks like this can also be painted into simple frogs, flowers, or painted blue and put together to make a pond.
Fishing Pond from Crafts Unleashed
Check out how they use a dollar store mirror, paint, and a sort of soil around the mirror to make a pond.
Recycled Water Bottle Fairy Garden Well from My Pinterventures
Use plastic bottles and river rock to make a well for your fairy garden. You can also use this same technique to make a large house for your fairy. Cover a plastic milk jug with river rocks. Cut a hole on the side for a door.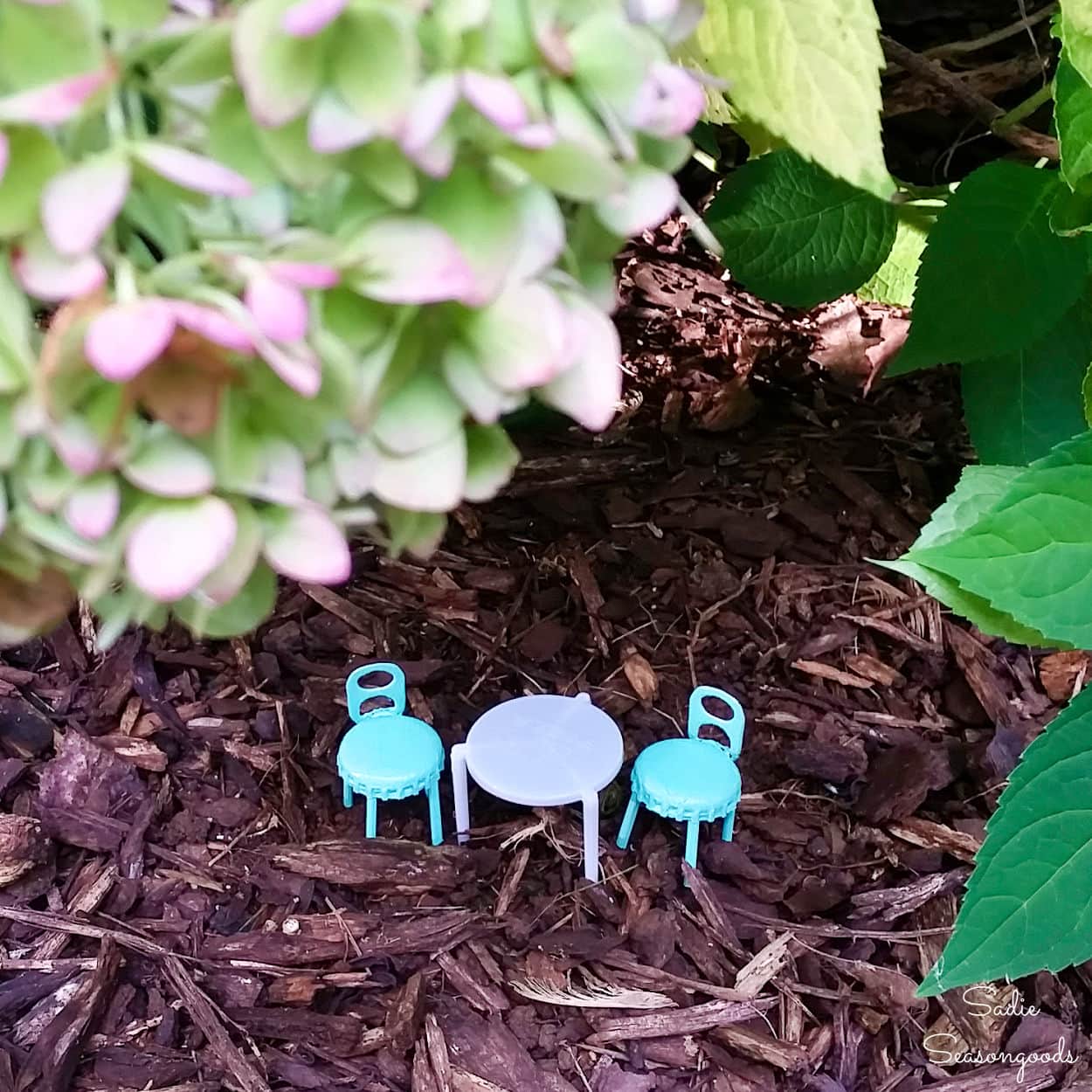 Junk Drawer Table & Chairs from Sadie Seasongoods
Make miniature furniture from bottle tops, can tabs, and a kitchen table from the thing that comes on your pizza. What a great idea to recycle items to make
Popsicle Stick Fairy Garden Fence from Simple Practical Beauty uses wire and sticks. I like this idea because you can make the fence as long or as short as you need to. Paint the fence with colorful paint to add a beautiful detail that fairies would love!
Other Fairy Crafts for Older Children to Accessorize Your Fairy Garden
Horseshoe Fairy Door from My Turn for Us
Polymer Clay Lantern from Fairy Garden DIY
plastic bottle fairy house nightlights from Crafts by Amanda
Solar Powered Fairy House from Creative Green Living
Fairy House Garden Kits that you can buy from Kids Activities Blog
Make your fairy garden in a suitcase like she did at Empress of Dirt
Upcycled Fairy Garden from See Vanessa Craft
Use a bird bath as your base like they did at Curly Crafty Mom